Team Members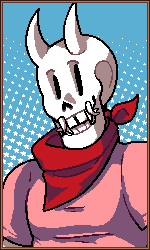 Sunny - Owner
Having been honing his cooking skills for several years prior to the founding of his establishment in 2017, Sunny is very passionate about his craft, and about the welfare of his community and customer base. He is something of a jack of all trades when it comes to food, but his specialty creations are his signature cinnamon buns and his spaghetti.
In recent months he has decided to take a backseat in the kitchen, passing on his wealth of knowledge and practice, and taking the reins of security management.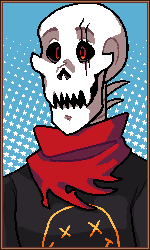 Rus - Manager
Rus had previously been in the position of customer care, but had also been playing a strong supporting role to the café and its owner for some time prior to his official promotion. He has a very good head on his shoulders and a good sense for people, which make him an ideal liason between customer and staff, and he provides grounding for looking to the future of the business.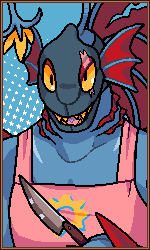 Prickly - Chef
Having previously assisted in more security-related tasks, Sunny recognised her already honed skill, and potential, as a chef, and entrusted her with the kitchen. Though she jokes plenty about cursed food in the Café's official chat room, this perhaps only proves that knowing what doesn't work is important to knowing what does.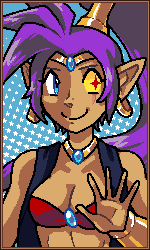 Shantae & Nega - Security
A half-human, half-genie from a faraway place. Once the defenders of a small, seaside port town, they're now on-call for a whole kingdom - and café security as a part-time gig.
While they're normally very sweet, Shantae and Nega won't hesitate to use their mastery over both light and dark magic if the café is threatened.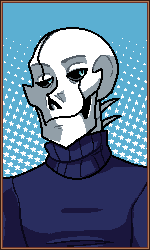 Llyr - Customer Care Supervisor
As a senior member of the customer care team, Llyr's role entails assisting customers who may have communication difficulties or accessibility needs. He also serves as a consultant for other management matters, and assists in training various members of the team.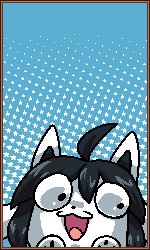 Temmies - Customer Care, Web Management
dATs US!!!!1!!11!! we da BES at our Jorb
(OWNER NOTE: THE TEMMIES ARE INNUMERABLE, AND I DON'T REALLY KNOW WHERE THEY CAME FROM, BUT THEY'RE HERE AND HAPPY TO HELP!)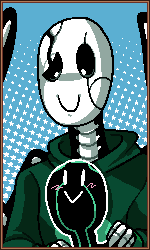 Flaps & Runiel - Supply & Support
With the café being underground and fairly disconnected from other timelines and its own timeline's surface, Flaps and Runiel provide the crucial supply point for the establishment to succeed. Flaps also serves as a consultant into café matters, and Runiel provides support to the security team.